Become a specialist lawyer.
Become a specialist lawyer.
The CILEX Professional Qualification (CPQ) is the new route to becoming a new kind of lawyer – a specialist lawyer. With practical training and the opportunity to specialise early you'll be getting ahead of the pack and helping to shape the future of law.


Specialists are the future of law
The legal sector is changing fast and the old ways of training and qualifying as lawyers are out of step with today's demand for practical expertise. Increasingly business and private clients are looking for legal professionals who can show deep expertise in the specific issues they are facing.
While traditional legal qualification routes have focused on developing generalist lawyers who then specialise, the CILEX Professional Qualification (CPQ) allows you to focus on the areas of law that are most relevant to your work from an early stage.
That means that as soon as you complete CPQ, you'll be able to begin practising in your specialist area – providing your clients with your expertise in problem solving and adding much greater value to your employer's business. CPQ gives you more exposure, more responsibility and the opportunity to have a greater impact and advance your career faster.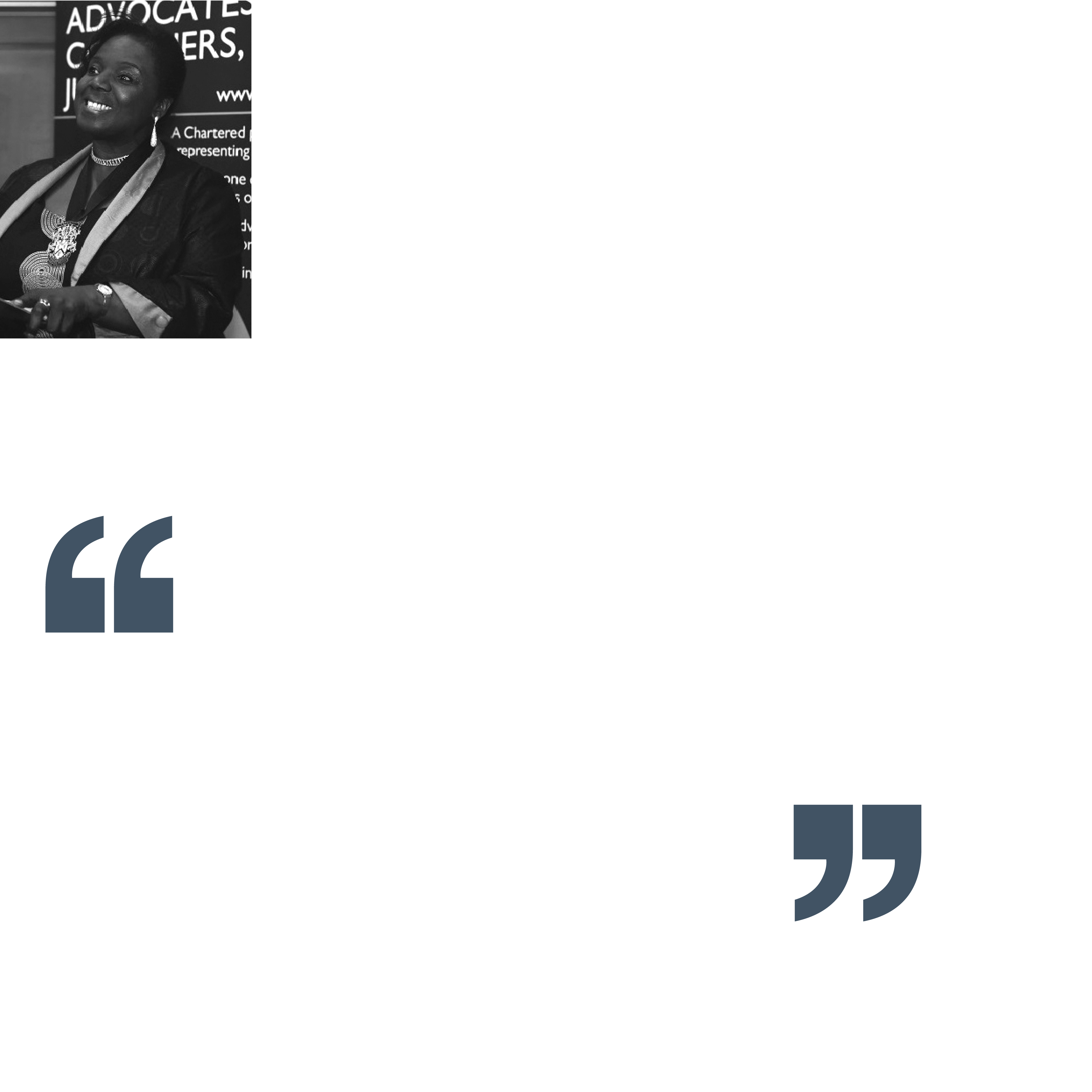 Your journey to becoming a specialist lawyer with CILEX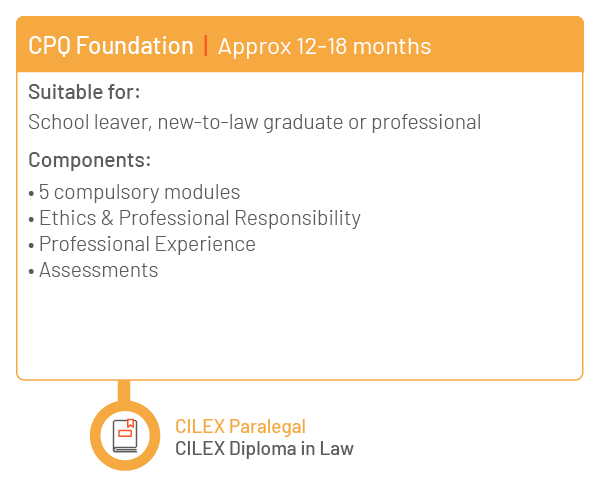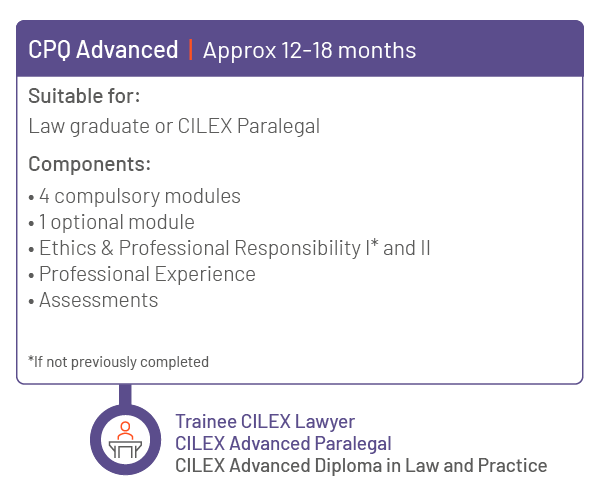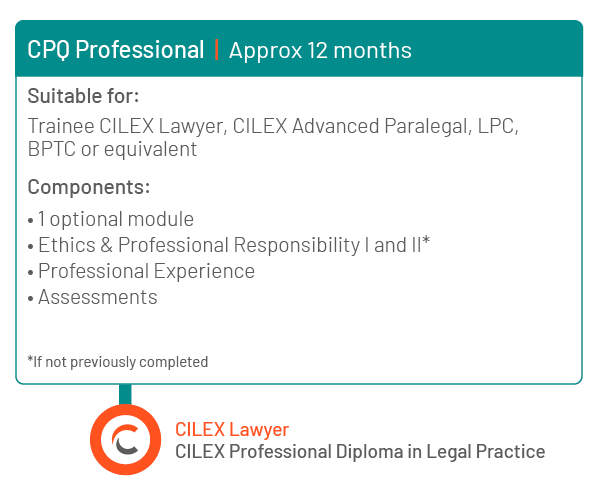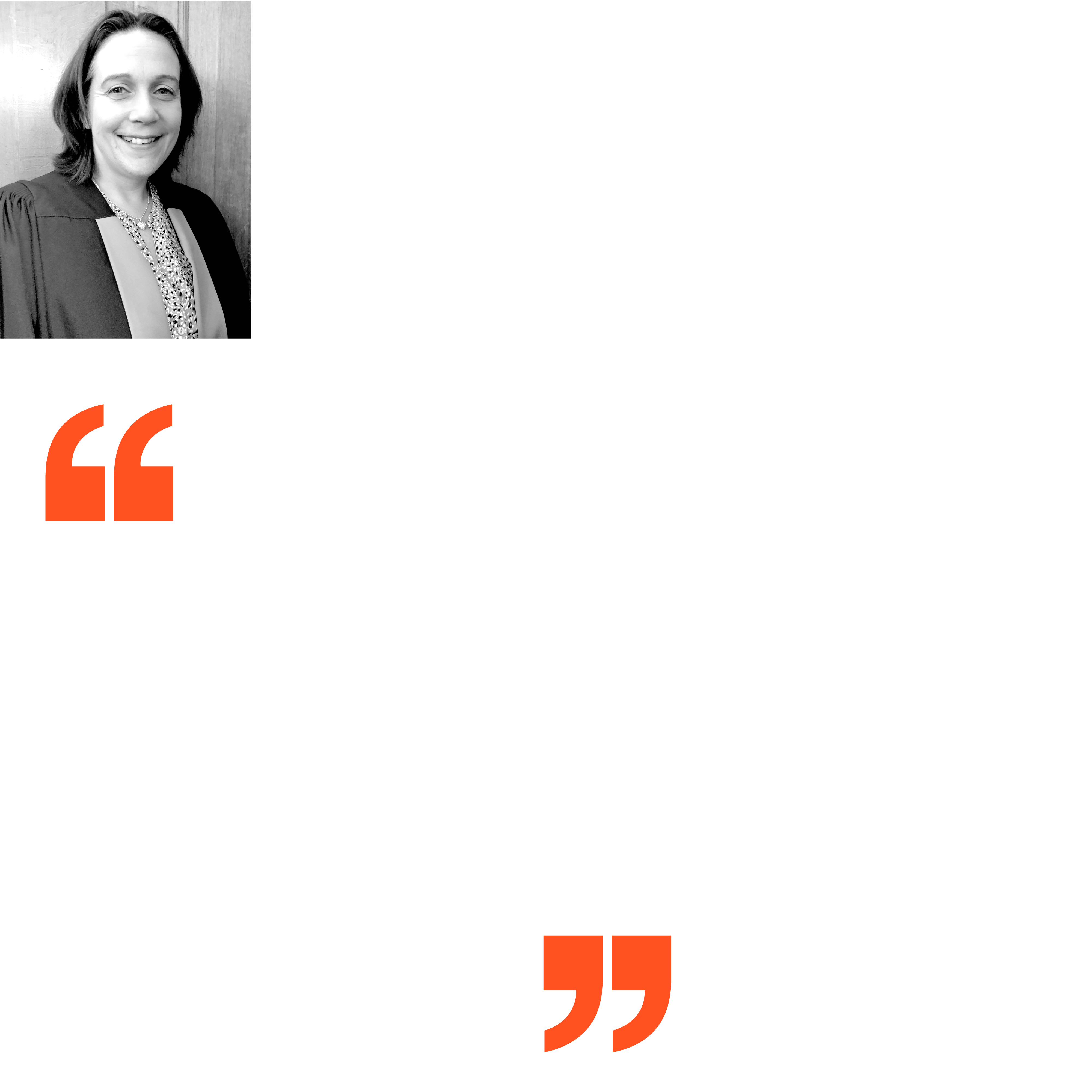 Just like the practice of law, studying law is changing and CILEX is leading the way. Our new CPQ programme uses a blended learning approach so that you can study in the way that suits you. Naturally there's the conventional book bashing – but all of our course materials are available via the CILEX hub so that you can create your own digital study library, make notes and use markers to help your study. Alongside your digital texts, you'll also have access to a wide range of online seminars and tutorials, streaming lectures and hot topic sessions to bring your learning to life.
At the start of your study programme, you'll be assigned a Learning and Development Adviser, a trained professional who will check in with you regularly, answer your questions and direct you to specific resources to support your learning. Depending on your training provider you may also be able to access additional resources and communities to further
One of the defining features of CPQ is its emphasis on helping you to develop the practical skills and behaviours that will support your practice. Everyone studying CPQ is required to take our Ethics and Professional Responsibility modules. These will provide you with a solid platform of knowledge about the legal system, professional code of conduct, and your responsibilities in areas such as data protection, client confidentiality and money-laundering. You'll also work through a series of practical case studies in which you'll explore your professional obligations and how to behave in different challenging situations.
Studying and qualifying with CILEX is designed to be as flexible as possible to fit around your work and life commitments. You can choose where to study from a wide range of leading training providers and take the CPQ stages at a speed that suits you – there's no pressure to complete within fixed times and you can sit your CPQ assessments when you are ready.
Unlike other legal training routes you don't need to have a training contract or graduate placement to start on CPQ – you can even start CPQ before you start your job, though you will need to demonstrate law-related work in order to develop your work experience portfolio and progress through the stages. In fact, many leading employers recognise CILEX training programmes as the high-quality, cost-efficient route for developing their legal talent and offer financial and study support for employees taking this route.
We partner with leading training providers to deliver CPQ so that you can choose where and how to study.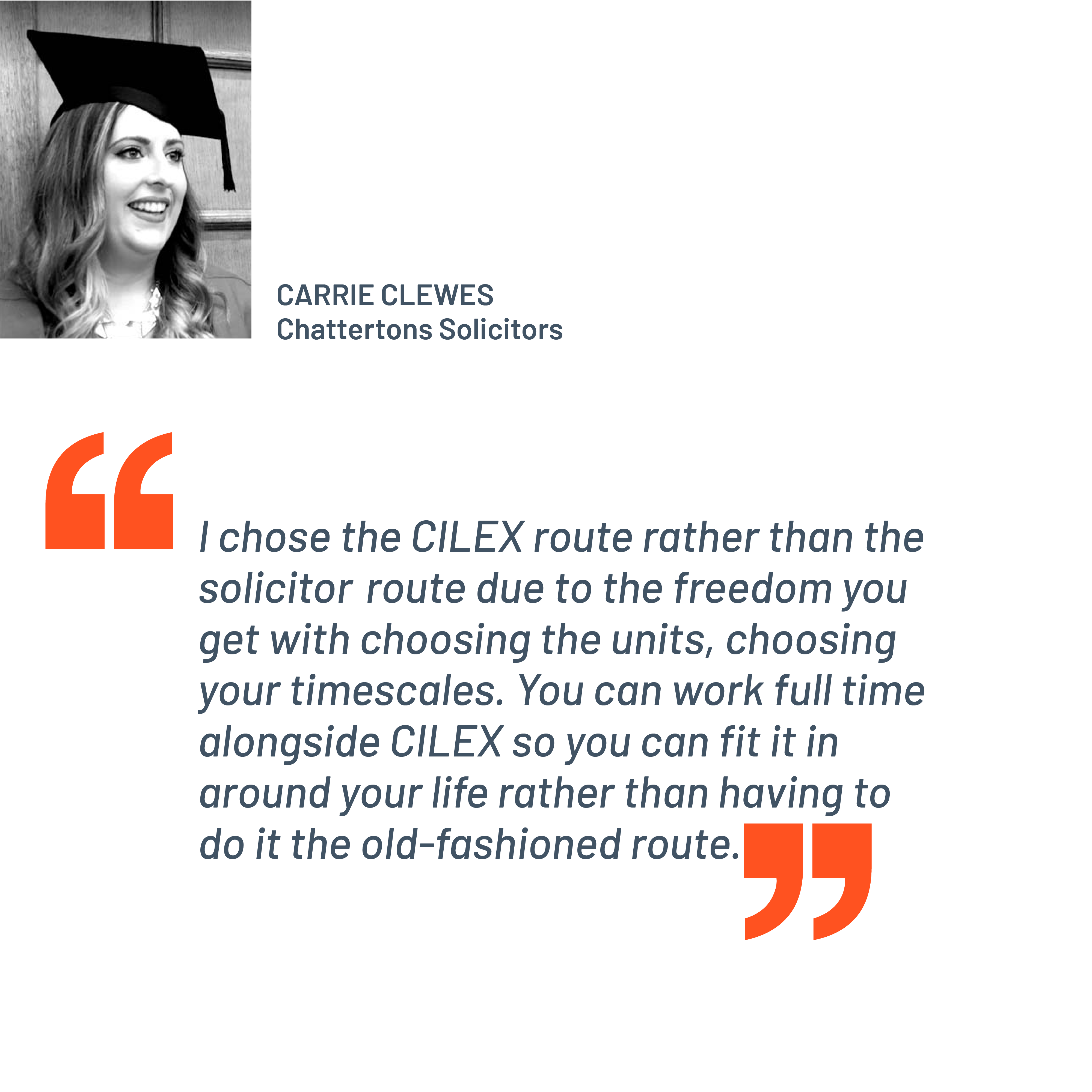 Leading employers trust CILEX to develop their teams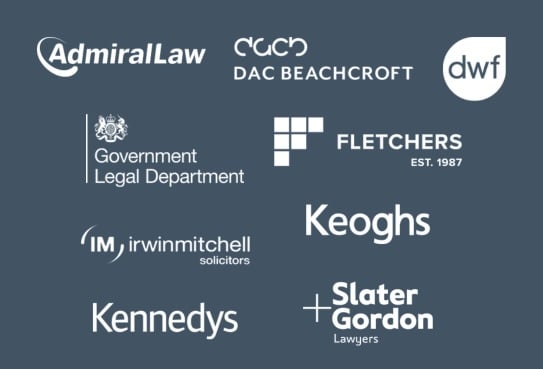 The best-value route to launch your legal career
As a graduate from a non-law background, you will start CPQ at the Foundation stage. This will give you an understanding of the fundamentals of the UK legal system. From here you will begin to specialise on the areas of law that are most relevant to you and your employer. Your journey to becoming a specialist lawyer – studying, working and applying your learning in the workplace – has been designed to be both flexible and challenging. While you can progress through CPQ as fast as you like, the typical journey to full qualification will take around three years, though there is no time limit on your progress.
See the table below for indicative costs for each stage of CPQ.
If purchasing the full CPQ, student loans are available from Lendwise (Eligibilty requirements apply).
To provide you with the greatest possible flexibility in paying for your qualification you can choose to purchase each module separately - you'll need to pay the CILEX fee upfront, but can then pay for each module and exam fee when you are ready to study it. There will be a requirement to complete the overall stage within three years from the point of registration. See the table below for indicative costs for CPQ if you pay for each module:
Please note, those opting for a Family Litigation, Criminal Litigation, or Dispute Resolution pathway will require an additional Advocacy course (£1,725 +VAT) on completion of the CPQ to obtain the title of CILEX Lawyer.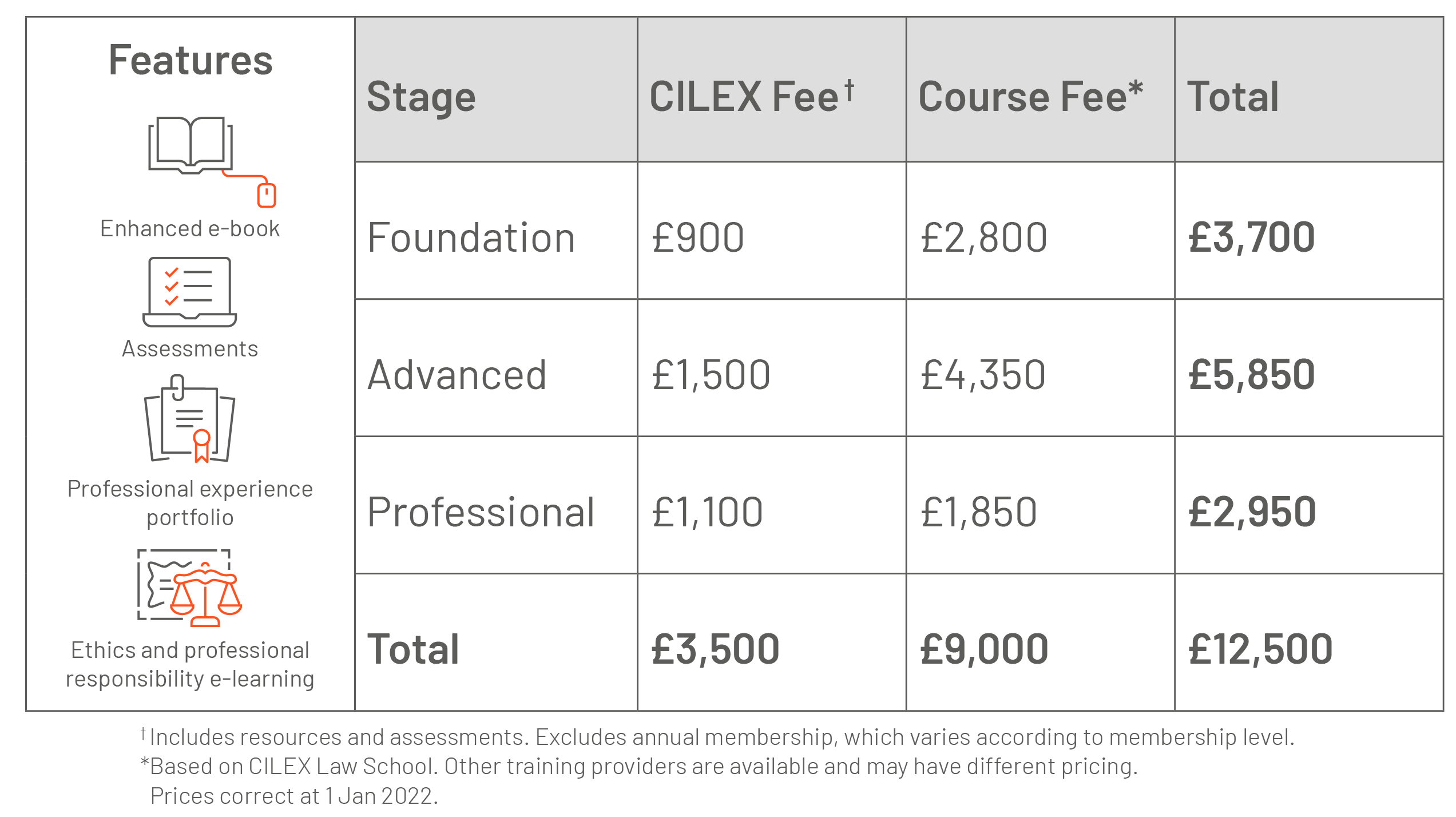 Download the student prospectus for more information on the structure of the CPQ programme and your journey towards becoming a specialist lawyer
We partner with leading training providers to deliver CPQ so that you can choose where and how to study
Anglia Professional Training

Bede College

Brightlink Learning Limited

CILEX Law School
Damar Training

Law Training Centre

Leeds City College

Professional Vocational Training Ltd
The Law Academy

Truro College

University of Westminster