The world of law is changing. Your clients increasingly need specialist lawyers – trained and experienced in the fields that relate to their specific challenges. That's why CILEX has developed the new CILEX Professional Qualification (CPQ), a progressive, practical framework of legal education and experience to meet the needs of law in the 21st century. With a focus on work-readiness and practical professional skills, CPQ is the ideal solution to upskill your team and develop legal professionals for the future of your business.
Leading employers trust CILEX to develop their teams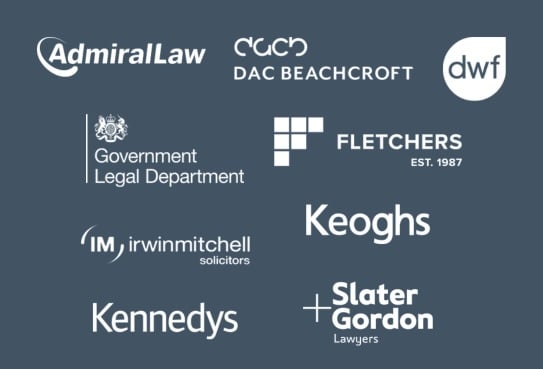 Developing legal professionals for the future
Clients want advice from specialist lawyers – professionals who focus on their specific concerns every day and who know the relevant areas of law inside out. The CILEX Professional Qualification (CPQ) begins by giving your people a wide-ranging understanding of the different areas of law. It then enables them to begin to specialise progressively and to develop deep expertise in the areas most relevant to their work and your business. So, when they complete CPQ, they are already specialists rather than newly qualified generalists still needing to specialise.
CPQ is built on an extensively researched competency framework that places a strong focus on practical experience and professional competence, ensuring that at each stage, professionals are putting their knowledge and skills to work and evidencing their progress. It also features a compulsory ethics and professional responsibility module that will give your staff an understanding of their regulatory responsibilities and the behaviours required of a legal professional.

Building a fit-for-purpose workforce
CPQ is a three-stage, progressive training programme that takes learners from an initial introduction to law all the way to being practising specialist lawyers, qualified and able to operate in their chosen areas at the same level as solictors. CPQ has multiple entry points and allows learners to qualify at their own pace while gaining experience and professional qualifications along the way. So, whether you need support your team to gain their first legal qualifications or further invest in those who wish to take their career to a high level, CPQ can support your workforce-development needs.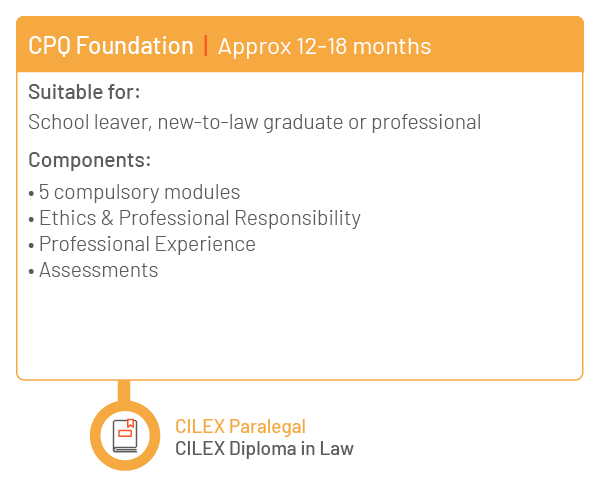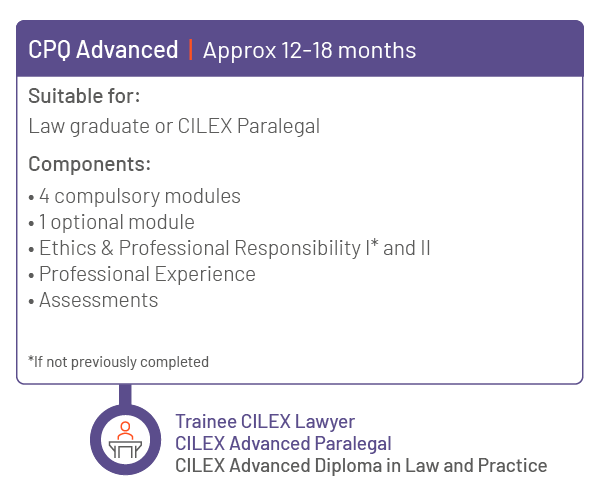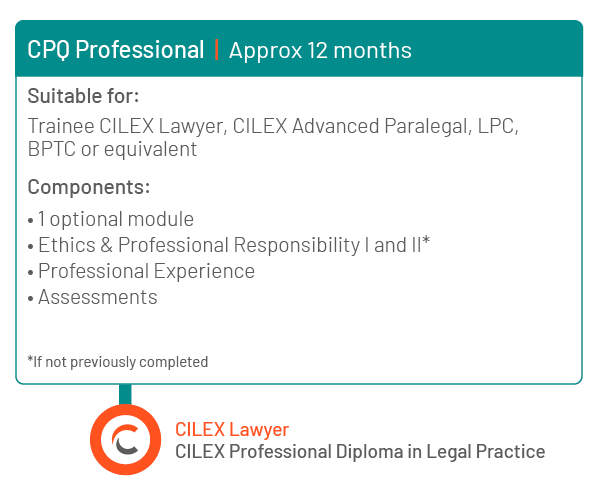 Building a partnership that lasts
CILEX is redefining what it means to be a legal professional and creating new pathways into practice at every level of the profession – including specialising as a CILEX Lawyer. We work closely with employers to support your workforce development needs. Our programmes are constantly being updated and CPQ itself was designed after extensive consultation with employers and other stakeholders about the competencies required for each stage.
Working with us, you'll be assigned a personal account manager who will help you to access the most appropriate programmes for your team – including bespoke and tailored options to suit your specific business needs.
We partner with a wide range of leading training providers around the country for the delivery of our programmes so you can choose your provider based on location and the delivery channel that's best for your needs.


Supporting your Environmental, Social and Governance initiatives
With growing pressure for firms to diversify their workforce and demonstrate inclusive hiring practices, partnering with CILEX makes sense from an ESG as well as a workforce-development perspective.
CILEX has a stated objective of breaking down the barriers that prevent people from non-traditional and diverse backgrounds from entering the legal professions. CPQ has no academic requirements for entry and does not require learners to secure a training contract or graduate placement to begin training. Neither does it require students to meet a pre-defined schedule – learners can take their qualifications as fast or as slowly as they like, enabling them to combine professional development with their work and life commitments. This flexible and progressive approach supports diversity and inclusion, enabling people from different backgrounds, including those with little previous exposure to legal careers, as well as 'career changers' and 'returners', to launch and develop rewarding careers in law.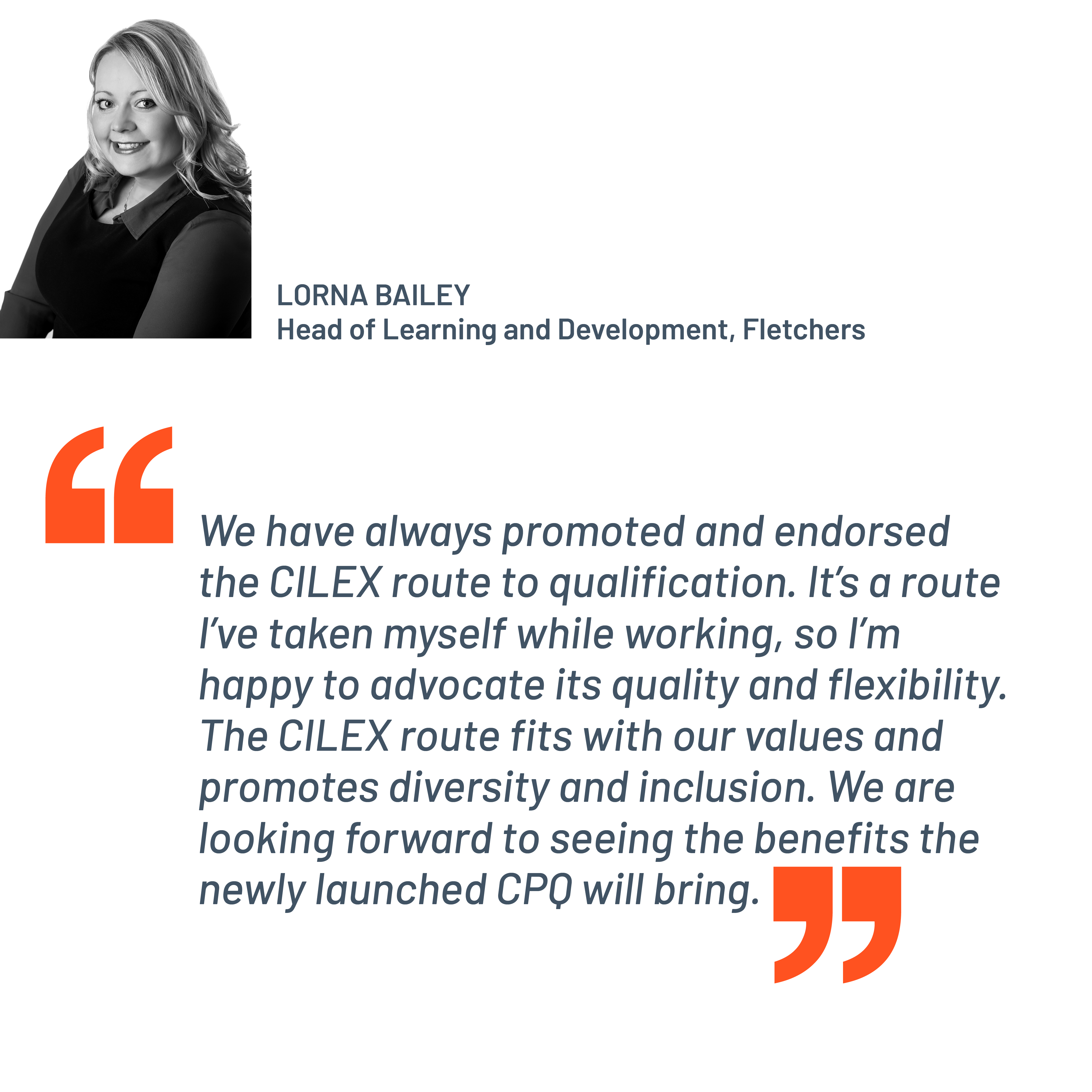 The cost-effective platform to develop your team
Investing in your workforce in a vital but potentially costly part of being an employer so you need to know that your outlay on development is going to deliver value to your business. CPQ has been designed to be a staged qualification framework so that you can support your staff as far as you need them to go. That could mean developing more paralegals or case handlers, or it could mean augmenting your practice with fully qualified CILEX Lawyers – experts trained in the areas of law most relevant to your work. Either way, CILEX's model is all about combining high-quality technical training with practical insight and on-the-job experience. Your teams will be implementing their learning in real time, delivering real value on the frontline to your clients and to your business.
See the table below for indicative costs for each stage of CPQ.
Please note, those opting for a Family Litigation, Criminal Litigation, or Dispute Resolution pathway will require an additional Advocacy course (£1,725 +VAT) on completion of the CPQ to obtain the title of CILEX Lawyer.